THE SEAWATER REVERSE OSMOSIS MACHINE
The SeaTech series seawater reverse osmosis machine offers a turn-key pre-packaged solution to desalination. These skid-mounted systems are available in various models capable of delivering permeate at 100–2,500 m3/day. From simple low capex turbocharger solutions on SeaPRO-8-28 to premium efficiency pumps and energy recovery devices on SeaTech-42-210.
PREMIUM BUILD FOR MAXIMUM
EFFICIENCY
• The SeaTech platform has the flexibility to accommodate a range of conditions without adding significant cost or delivery time.
• Options of recovery of 35% or 45%, feed water salinity of 35,000 or 45,000 mg/L, and power supply of 50 Hz or 60 Hz is available— it's up to you.
ROBUST, HIGH-QUALITY
CONSTRUCTION
• Corrosion and temperature resistance occurring at the intersection of super duplex and austenitic steel, high-quality welding, and passivated and electropolished pump internals.
• Vibration free thanks to a 2-skid design on SeaPRO-42-210 where the high-pressure pump skid is separate from membrane rack skid, effectively eliminating leaks.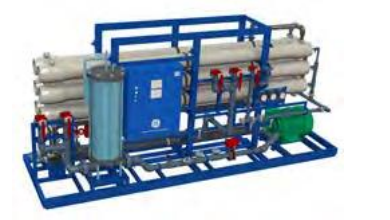 Tech-E- 36
Tech -E- 72
Tech -E- 105
Tech -E- 210
Flow Rates
Permeate rate (m3/d)
500
1,000
1,500
2,500
Concentrate rate (m3/d)
750
1,225
1,834
3,064
Feed Rate (m3/d)
1,250
2,225
3,334
5,564
Performance Data
Membrane quantity
36
72
105
210
Recovery
45%
Nominal rejection
99%
TDS (NaCl mg/L)
45,000
Design temperature (°C)
25
Operating range (°C)
2–30
Operating pH
5.5–8.5
Minimal inlet pressure (psi)
30
Operating pressure (psi)
950
Energy recovery
Turbocharger
Specific power Consumption(kWh/m3)
3.07
SEATECH-8
SEATECH

-16

SEATECH

-28

SEATECH

-42

Flow Rates
Permeate rate (m3/d)
100
200
300
550
Concentrate rate (m3/d)
185
371
557
672
Feed Rate (m3/d)
285
571
857
1,222
Performance Data
Membrane quantity
8
16
28
42
Recovery
35%
45%
Nominal rejection
97–99%
TDS (NaCl mg/L)
45,000
35,000
Design temperature (°C)
25
Operating range (°C)
2–30
Operating pH
5.5–8.5
Minimal inlet pressure (psi)
30
Operating pressure (psi)
900–950
Energy recovery
Turbocharger
PX
Specific power Consumption(kWh/m3)
3.06
3.09
3.08
2.57